Why Do I Get Bunions?
Overview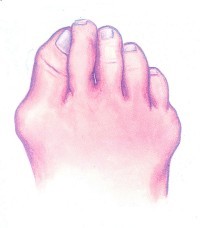 A bunion is enlargement of bone or tissue that develops at the joint that connects your big toe to your foot. The bones, muscles, ligaments and tendons of your feet normally are well-balanced to distribute your body's weight while standing, walking and running. When the joint, called the metatarsophalangeal joint, or MTP joint, experiences abnormal, prolonged stress in terms of weight distribution or squeezing of the toes within the shoe, the result can be the deformity called a bunion. Generally, a bunion develops when, as a response to prolonged stress, your big toe begins bending toward your foot's smaller toes and puts pressure on your MTP joint, forcing it to bulge outward (the term "bunion" comes from the Latin word for "enlargement"). There is no "standard" bunion, however, but rather a complex range of joint, bone and tendon abnormalities that can cause variation in each bunion's make-up.
Causes
By far the most common cause of bunions is the prolonged wearing of poorly fitting shoes, usually shoes with a narrow, pointed toe box that squeezes the toes into an unnatural position. Bunions also may be caused by arthritis or polio. Heredity often plays a role in bunion formation. But these causes account for only a small percentage of bunions. A study by the American Orthopaedic Foot and Ankle Society found that 88 percent of women in the U.S. wear shoes that are too small and 55 percent have bunions. Not surprisingly, bunions are nine times more common in women than men.
Symptoms
The main problem is usually the pressure of the shoe over the bony prominence, which causes discomfort or pain. Sometimes the skin over the lump becomes red, blistered or infected. The foot may become so broad that it is difficult to get wide enough shoes. The big toe sometimes tilts over so much that it rubs on the second toe, or pushes it up out of place so it presses on the shoe. Also, the big toe does not work as well with a bunion, and the other toes have to take more of the weight of the body as you walk. This can cause pain under the ball of the foot ("metatarsalgia"). Sometimes arthritis develops in the deformed joint, causing pain in the joint.
Diagnosis
Before examining your foot, the doctor will ask you about the types of shoes you wear and how often you wear them. He or she also will ask if anyone else in your family has had bunions or if you have had any previous injury to the foot. In most cases, your doctor can diagnose a bunion just by examining your foot. During this exam, you will be asked to move your big toe up and down to see if you can move it as much as you should be able to. The doctor also will look for signs of redness and swelling and ask if the area is painful. Your doctor may want to order X-rays of the foot to check for other causes of pain, to determine whether there is significant arthritis and to see if the bones are aligned properly.
Non Surgical Treatment
Bunions can develop at any time. Although bunions often require no medical treatment you should consult your family doctor/chiropodist/podiatrist. Treatment options vary depending on the severity of your bunion and the amount of pain it causes you. Although they don't always cause problems, bunions are permanent unless surgically corrected. If the cushioning sac of fluid (bursa) over the affected joint becomes inflamed (bursitis), a bunion can be very painful and interfere with your normal activities. Bunions may get larger and more painful, making nonsurgical treatment less effective. Apply a non-medicated bunion pad around the bony bump. If a bunion becomes inflamed or painful, apply an ice pack two to three times daily to help reduce swelling. Wear shoes with a wide and deep toe box. Avoid shoes with heels higher than 2 inches (5.1 centimeters).
Surgical Treatment
Sometimes a screw is placed in the foot to hold a bone in a corrected position, other times a pin, wire or plate is chosen. There are even absorbable pins and screws, which are used for some patients. In British Columbia, pins seem to be used most frequently, as they're easier to insert and less expensive. They are typically--but not always--removed at some point in the healing process. But as a general rule, Dr. Schumacher prefers to use screws whenever possible, as they offer some advantages over pins. First, using screws allows you to close over the wound completely, without leaving a pin sticking out of the foot. That allows for a lower infection rate, it allows you to get your foot wet more quickly following the surgery, and it usually allows for a quicker return to normal shoes. Second, they're more stable than pins and wires. Stability allows for faster, more uneventful, bone healing. Third, they usually don't need to be removed down the road, so there's one less procedure involved.
Prevention
Here are some tips to help you prevent bunions. Wear shoes that fit well. Use custom orthotic devices. Avoid shoes with small toe boxes and high heels. Exercise daily to keep the muscles of your feet and legs strong and healthy. Follow your doctor?s treatment and recovery instructions thoroughly. Unfortunately, if you suffer from bunions due to genetics, there may be nothing you can do to prevent them from occurring. Talk with your doctor about additional prevention steps you can take, especially if you are prone to them.
tag : Bunions,HalluxAbductoValgus,HalluxValgus,Tailor'sBunion,Bunionettes
2015-03-29
Trackbacks : 0